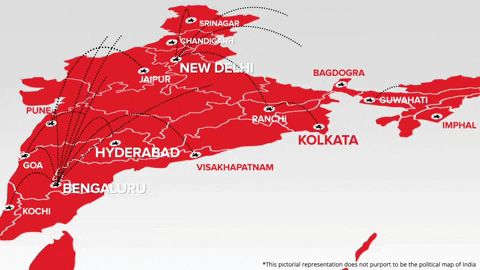 Northeastern India States Short Introduction :-
North East India is one of the most beautiful places of India and of the world located at north-eastern of India. Transport in Northeast India is not so easier as in other parts of the country. As most of the regions are hilly it becomes difficult to have roadways, airways or railway line passing through them.
In early History, Brahmaputra and Barak, the two main rivers of North-East India, were the main means of transport. Boats served as the main mode of travel and transport in the early days. During the medieval era, many east-west land routes which were called Assamese as Alis in Brahmaputra plain, both to north and south were opened. Many routes were laid by the Ahom kings, principally in south Brahmaputra plain.
There was hardly any wheeled transport in the region till late nineteenth or early twentieth century. After the arrival of British everything was changed. They built metre gauge railway line between Digboi in the North-Eastern corner of Assam and Chittagong a port in Bengal connecting Assam with the bay of Bengal. The hilly area has always been the key issue in laying down a good transport facility.
As most of the areas in Northeast are hilly and distance areas the goods transportation is not much easy. Rail connection has always been an issue in this region. It is only road connectivity which plays an important role in fulfilling the cargo transportation. Heavy Road Transportation needs well maintained roads.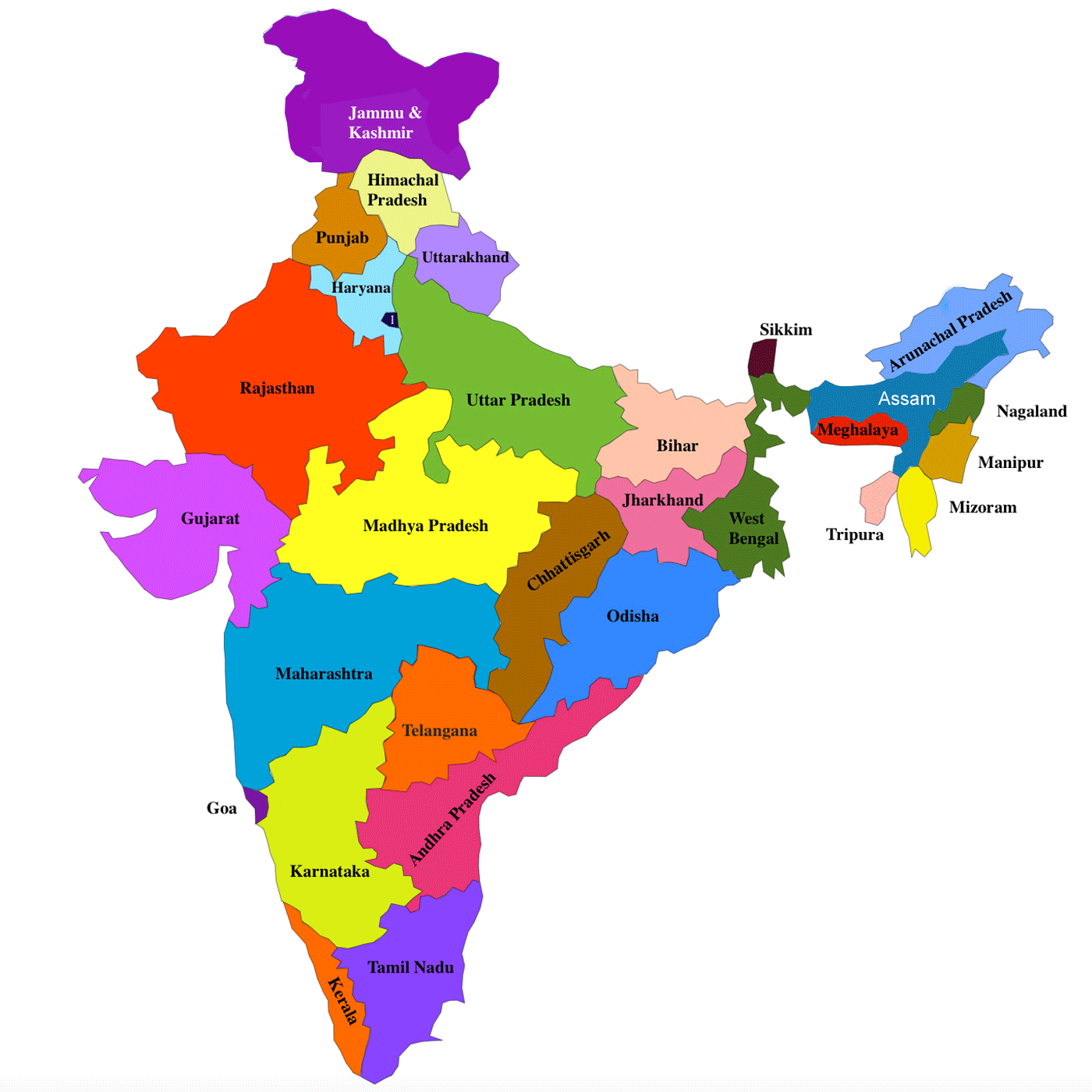 Airways Northeastern India States :-
The North-Eastern Council a nodal agency for economic and social development of the north east and is funding up-gradation of infrastructure in 12 operational airports.
On September 24 Prime Minister Narendra Modi inaugurated The Pakyong Airport in Sikkim. The airport is built over an area of 200 acres on hill at 4,500 feet above sea level.
Tezu Airport located Tezu in Arunachal Pradesh, India is under up gradation to handle some special kind of aircrafts.
Roadways Northeastern India States :-
The NEC has planned to build roads covering 10,500 kilometres, which will include inter-state and roads of economic importance. North East Road Sector Development Scheme has been launched which will handle projects for roads and bridges. These projects include Doimukh -Harmuti, Tura-Mankachar and Wokha-Merapani-Golaghat of 85 kilometres and will be led by the National Highway and Infrastructure Development Corporation (NHIDCL). NHIDCL has planned 14 such projects.
Arunachal Pradesh has the least density of roads. The Union Ministry of Road and Transport has planned to expedite the Trans-Arunachal Highway project. The ministry will be driving the Special Accelerated Road Development Program of Roads and Highways which will cover 2,319 kilometres. Plan for constructing Arunachal Frontier Highway and East West corridor, has also been proposed.
Railways Northeastern India States :-
India's largest railroad bridges known as Bogibeel Bridge was inaugurated on December 25, 2018.The bridge is 5 km long over the Brahmaputra river, which will connect Dibrugarh in Assam and Dhemaji distirct bordering Arunachal Pradesh. This bridge has cut down the distance between two cities by four hours.
There are 20 major railway projects which will provide link for the NE states. This will include installing 13 new lines, two gauge conversions and five doublings with a length of nearly 2,624 km.
Railway line connecting Bairabi and Sairang is in progress which will be completed by 2020. This will connect capitals of North Eastern states.
To resolve road connectivity in Assam a highway project along the Brahmaputra river which will cost Rs 40,000 crores and will cover 1,300 kilometres will be launched.
Transport In Assam Northeastern India States :-
Assam Airways Transport Northeastern India States :-
Airways Transport The Lokpriya Gopinath Bordoloi International Airport of Guwahati is well connected with four major metropolitn cities : New Delhi, Kolkata, Mumbai and Chennai. All the major flight have regular flights to Guwahati as well as other major cities in the states such as Jorhat, Tezpur, Dibrugrah, and Silchar.
Assam Railways Transport Northeastern India States :-
Rail Transport Guwahati is the headquarters of Frontier railway and connected well to other cities parts of the country. Most of the train services in Assam whether it is metre gauge or broad gauge pass through Guwahati. Broad Gauge line connection is upto Dibrugarh and Metre Gauge line with Haflong and Silchar.
Assam Roadways Transport Northeastern India States :-
Road Transport All the towns and cities of Assam are well connected with Assam State Transport Corporation and other bus services. These buses also connects to neighbouring states. Transport in Assam is usually done by means of road transport.
Transport In Meghalaya Northeastern India States :-
Meghalaya Airways Transport Northeastern India States :-
Airways Transport Meghaylaya does not has its own airport. But the nearest airport to it is at Borjhar in Assam which is about 124-km form Shillong – the capital of Meghalaya.
Meghalaya Railways Transport Northeastern India States :-
Rail Transport Guwahati in Assam serves as the nearest railway station to Shillong. Rail passengers reach to Guwahati and then they travel to Shillong by Meghalaya Transport Corporation Buses and private buses or taxis.
Meghalaya Roadways Transport Northeastern India States :-
Road Transport To reach Shillong from Borjhar Airport tourists use the private tourist buses or taxis. National Highway 40 connects Shillong with Guwahati and it takes aroung 3-4 hours to cover the distance of 103 kms. National Highway 44 connects Shillong to Silchar in Assam, Aizawl in Mizoram and Agartala in Tripura.
Transport in Meghalaya becomes difficult for people as it doesn't have an airport. People have to rich either to Guwahati railway station in Assam of Borjhar airport in Assam.
Transport In Sikkim Northeastern India States :-
Sikkim Airways Transport Northeastern India States :-
Airways Transport The nearest airport is at Bagdogra, which is 124-km from Gangtok and connected to all metropolitan cities.
Sikkim Railways Transport Northeastern India States :-
Rail Transport The nearest railway is at New Jalpaiguri, which is 125 km from Gangtok. Railways at New Jalpaiguri is well connected witth major cities of India.
Sikkim Roadways Transport Northeastern India States :-
Road Transport The National Highway 31 connects Gangtok with Darjeeling, Kalimpong and Siliguri. Sikkim Nationalized transport provides regular bus services between Gangtok and Siliguri and inner parts of Sikkim. You can hire private buses, taxis and jeeps from Siliguri and Bagdogra.
Transportation in Sikkim is better if you choose private vehicles instead of using transport buses.
Transport in Manipur Northeastern India States :-
Manipur Airways Transport Northeastern India States :-
Air Transport Manipur has its one and only airport at the capital city, Imphal. This airport is the second largest airport in the Northeast region. This airport is directly connected to the to the cities like Kolkata, Silchar, Delhi and Guwahati via regular flights.
Manipur Railways Transport Northeastern India States :-
Rail Transport : Manipur does not have its own railway line. The nearest railway station is Dimapur In Nagaland which is at a distance of 215km.
Manipur Roadways Transport Northeastern India States :-
Road Transport Transport in Manipur becomes easy it has good connection with the national highways to the rest of the country. Three Highways namely, N.H- 53, N.H- 39 and N.H- 150 pass through the State connecting all the districts. Manipur State Road Transport Corporation (MSRTC) provides regular bus service to all the major cities of northeast which includes Assam, Mizoram, Nagaland, and Tripura.
Transport in Nagaland Northeastern India States :-
Nagaland Airways Transport Northeastern India States :-
Air Transport Nagaland has its one and only airport at Dimapur. Flights land and take-off from the airport at regular basis. Guwahati and Kolkata have direct flights from the Airport. Jet Airways and Air India are the only two flight operators providing flights to and from Dimapur.
Nagaland Railways Transport Northeastern India States :-
Rail Transport The main railway staion in Nagaland is in Dimapur which is linked to Guwahati. Guwahati from there is connected to rest of the cities in other parts of the country.
Nagaland Roadways Transport Northeastern India States :-
Road Transport The primary mode of Transport in Nagaland is roadways. The road network of Nagaland is upto 9860 kms in total. Nagaland is mainly dependent on road network for all of its transportation which also includes export and import of goods. NH-155, NH-36, NH-61 are all National Highways which are connected through Nagaland .
Transport in Arunachal Pradesh Northeastern India States :-
Arunachal Pradesh Airways Transport Northeastern India States :-
Air Transport The nearest airport is Lilabiri in Assam which is 57 km from Naharlagaun and 67 km from Itanagar. Direct flights from Kolkata to Tezpur are operated on Wednesday, Friday and Sunday.
Arunachal Pradesh Roadways Transport Northeastern India States :-
Road Transport Main means of Transportation in Arunachal Pradesh is roadways. Buses are the main modes of transportation. Cabs and Taxis are also facilitate tourists for better transportation. NH 153, NH 229, NH 415, NH 515, NH 52, NH 52A are well connected across Arunachal Pradesh. The Arunachal Pradesh State Transport Services (APSTS) is service provided by the government which fulfils its motto of providing adequate, reliable and economical bus service to the people of state.
Arunachal Pradesh Railways Transport Northeastern India States :-
Rail Transport Arunachal Pradesh got its first railway station in 2013 named Naharlagun Railway Station. Transport in Arunachal Pradesh is less via railway stations.
Transport in Mizoram Northeastern India States :-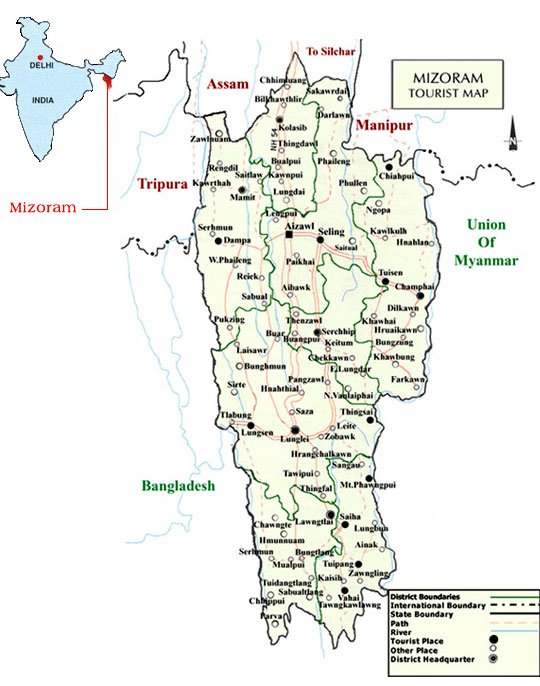 Mizoram Airways Transport Northeastern India States :-
Air Transport Mizoram has its own airport known as Lengui Airport. It is located around 35 kms away from the capital of Mizoram, Aizawl. This airport has is connected to Assam, Manipur and West Bengal via regular flights. Air India and JetConnect are the two flight services available at this airport.
Mizoram Roadways Transport Northeastern India States :-
Road Transport in Mizoram is done more via road as it has good network of roads. The total length road is about 6840 kms. The highway network of Mizoram is about 927 kms. The National Highways in Mizoram are NH-54, NH-154,NH-150.
Mizoram Railways Transport Northeastern India States :-
Rail Transport in Mizoram through less is zero as it does not has its own Railway Station. The nearest railway station to Mizoram is located in Silchar, Assam at a distance of 180 kms.
Transport in Tripura Northeastern India States :-
Tripura Airways Transport Northeastern India States :-
Air Transport Tripura has its airport in capital city Agartala. The Agartala airport is the busiest airport after Guwahati in Northeast. The Agartala airport is under development to get the status of International airport from Domestic airport. Indio, Air India, Jet airways and Spice Jet provides flight services in Agartala airport. There are direct flights from Kolkata, Guwahati, Delhi and Chennai. There is also one small airport located at Kailashahar which is used for landing small chartered planes. Transport in Tripura is more dependent on airways as most of the goods and cargo are transported through flights.
Tripura Roadways Transport Northeastern India States :-
Road Transport Tripura is connected to Assam and the rest of India by National Highway 44. The National Highway 44 connects Agartala to Silchar, Dharmanagar, Guwahati , Shillong and Aizawl. After you reach Agartala you can travel to any part of Tripura easily.
Tripura Railways Transport Northeastern India States :-
Rail Transport Agartala is the main railway station in Tripura. You can travel to Agartala railway station from Silchar and Badarpur in Assam. Other railway stations are at Dharmanagar and Kumarghat.
Transport in West Bengal Northeastern India States :-
West Bengal Airways Transport Northeastern India States :-
Air Transport The fifth busiest international airport named Netaji Subhash Chandra Bose is located in Kolkata city of West Bengal. The airport handles about 25 million passenger annually. Another international airport is Bagdodra Airport. Transport in West Bengal is well handled by air transport.
West Bengal Roadways Transport Northeastern India States :-
Road Transport West Bengal has massive infrastructure in road network which is primary reason for the growth in the economy of West Bengal. South Bengal State Transport Corporation in West Bengal provides bus service with almost 580 buses on the road. Transport in West Bengal means transport through government transport buses which provides enough buses to make transportation easier.
West Bengal Railways Transport Northeastern India States :-
Rail Transport Kolkata – the capital city of West Bengal is the headquarter for three interlinked zones of the Indian Railways, namely South Eastern Railway, Kolkata Metro and Eastern Railway. Kolkata metro is the first underground metro in the country. Eastern Railway is one of the most important division from 17 divisions of the Indian Railways.
Transport in Odisha Northeastern India States :-
Odisha Airways Transport Northeastern India States :-
Air Transport Biju Patnaik Airport is the only major airport in Bhubaneswar- the capital of Odisha. Indian Airlines, Sahara Airlines and Jet Airways have flights from Delhi, Mumbai, Chennai, Hyderabad, and Visakhapatnam to Bhubaneswar. It is the biggest and busiest airport in Odisha. Many big business firms have their own personal airstrips in Odishsa to use them for the purpose of Transportation in Odisha through chartered planes.
Odisha Roadways Transport Northeastern India States :-
Road Transport Odisha has developed a well maintained network of roads in the state. Total length of 3592.932 kms of National Highways pass through the state of Odisha. Odisha State Road Transport Corporation provides bus service in Odisha. OSRTC is continuously working to provide safe and comfortable road transport.
Odisha Railways Transport Northeastern India States :-
Rail Transport Bhubaneswar is the headquarter of East Coast Railway. Bhubaneswar is linked well with Kolkata, Hyderabad, Chennai, Mumbai, Guwahati etc. The total length of railway line is about 2287km including 91km of narrow gauge.
Transport in Bihar Northeastern India States :-
Bihar Airways Transport Northeastern India States :-
Air Transport Patna Airport and Gaya Airport are the two major airports in Bihar. Patna airport is connected to Delhi, Mumbai, Kolkata, Lucknow, and Ranchi. It is a restricted International airport with custom facilities to receive international chartered planes. Gaya Airport is a small international airport connected to Colombo, Singapore, Bangkok and more.
Bihar Roadways Transport Northeastern India States :-
Road Transport Bihar has full-spread network of state roadways and national highways. There are 29 national highways which covers about 2,910 km and the state highways cover 3,766 km. NH-2, 19, 28 ,28A, 30, 30A, 31, 57, 57A, 77, 80, 81, 82, 83, 84, 85, 98, 102, 101, 103, 104, 105, 106, 107 and 110 all are connected with Bihar. Bihar State Road Transportation Corporation(BSRTC) provides regular transport services in every corner of the state. BSRTC plays an important for Transportation in Bihar.
Bihar Railways Transport Northeastern India States :-
Rail Transport Bihar has good rail connectivity within the state and with other parts of the country. Bihar falls under East Central Railway division of Indian Railways which ensures railway facility in the state. Patna railway station is the major rail hub in the state. It is connected well with the metropolitan cities Delhi, Mumbai, Kolkata, Chennai.
Transport in Jharkhand Northeastern India States :-
Jharkhand Airways Transport Northeastern India States :-
Air Transport Birsa Munda is a domestic airport located in Ranchi. This airport is directly connected to cities like Delhi Mumbai, Kolkata and Patna etc. You can also hire chartered planes between Jamshedpur and Kolkata.
Jharkhand Roadways Transport Northeastern India States :-
Road Transport Jharkhand has good connectivity of roads within the state and with other parts of the country. There are about 12 National highways in the state which consists of 1,805 kms of road. NH-2, NH-6, NH-23,NH-31, NH-32,NH-33,NH-75,NH-78,NH-80,NH-98,NH-99,NH-100 are the national highways running through the state which forms the base of Transport in Jharkhand. Jharkhand Tourism Development Corporation has taken care of its responsibility by providing 150 buses in the city.
Jharkhand Railways Transport Northeastern India States :-
Rail Transport Jharkhand has an rail route of 1955 kms. Ranchi is one of the most profitable stations in South-Eastern Railways. You can reach various cities of Jharkhand using various trains. Jharkhand has extensive range of railway network which includes 97 main railway stations and junctions. Barharwa Junction, Chandil Junction, Katrasgarh, Bokaro Steel City, Dhanbad Junction, Ranchi, ec are some of the important stations in Jharkhand.
Transport in Chhattisgarh Northeastern India States :-
Chhattisgarh Airways Transport Northeastern India States :-
Air Transport Swami Vivekanda Airport at Raipur is the only airport in the Chhattisgarh state. It has good connection to the major cities of India. You can also found several airstrips at Bhilai, Bilaspur, Jagdalpur, Baikunth, Raigarh, Ambikapur, Korba, Jashpur and Durg.
Chhattisgarh Roadways Transport Northeastern India States :-
Road Transport The length of the roads in Chhattisgarh is about 35,888 kms which connects with various cities of the country and makes Transport in Chhattisgarh is easier. The national highway occupies about 2,184 kms while states highways occupy 3,611 kms. The remaining part is covered by the district roads. Central government approved the state governments proposal and sanctioned 442 city buses for 21 major cities of Chhattisgarh.
Chhattisgarh Railways Transport Northeastern India States :-
Rail Transport The role of Railway is major in transportation of goods as well as passenger in Chhattisgarh. Chhattisgarh division comes under South East Central Railway Zone. Raipur, Durg, Bilaspur are the major railway junctions in Chhattisgarh. The state of Chhattisgarh is said to be highest freight loading in the country.
Please click & See Our Endless Journey – Please Click
Transport Northeastern India States North Eastern India States Region Tourism Public frequently asked questions (FAQs) :-
What effect does industry or industrialization have in common public life ?
The industrialization has a major impact on society and people have to look forward to some changes in the country. Based on the public interest in the industry, profits and employment go higher. It increased in urbanization and people moved to an urban center in search development. On-road transportation, certain development has been establishing towards society help. Economic developments also have taken in the industrial revolution. It brought up significant social changes among public interest on industrialization. Revolution has brought up to consider significant changes in road transport on industry sides. Workers get paid and take advantages in mass production of goods.
What and how many bad business impact of poor transportation service?
Due to poor transportation services, many businesses greatly affected. Shifting goods to consume place affected due to poor road transportation. It involves a huge number of things to keep in mind and production will below. For controlling this situation, poor transportation needs to overcome as quickly as possible. It increases sufficient roads in rural areas tend to increase production. For agriculture input and markets, road transportation is a must. So, poor transportation must solve by taking proper measurements. Especially in rural areas, transportation is important to carry out many things smoothly. So, the government has to take proper steps to avoid this misconception and do the best for promoting road transportation.
What is the Government of India policy best suited for doing business?
Recently, the Indian government led by Narendra Modi is focusing more on a broad world of an endless number of emerging startups. For achieving this, the Indian government is creating new opportunities and programs. They help companies in both nurturing and innovation. There are many initiatives taken by the Indian government to support new entrepreneurship. It also aims to foster the civilization of creativity among Indian youngsters. With an exceptional and huge statistic benefit, India can raise and improve business individually and make the occupations for the benefit of this nation and also the world. Every step is taken to enable the prosperity and growth of the country.
What do companies in India have problems with multi-state trade payable Geographical diversity?
Ethnic, cultural, racial, gender and other kinds of identities determine how people know, see and experience the world. Individuals from diverse environments think, react and learn differently. It is difficult for multistate business companies in India while trying to understand their employees. Most significantly, geographic diversity will lead to a lack of unity within the organization. If properly harnessed, geographic diversity can provide in holistic and multi-dimensional perspective to the acumen and wisdom within the multistate business companies. The companies in India do not have more problems with the multi-state trade payable Geographical diversity. It is because the process is a little bit simple.
What is there an efficient goods commercial vehicle available in India as expected?
Transition in India become more realistic with the current government has sustained and massive push on electric mobility. The government's think-tank – NITI Aayog has been spearheading transition for increasing the zero-emission mode of transportation. Multi-Axle Trucks (MATs) are considered as the efficient goods commercial vehicle available in India and widely used with for industrial transportation. These vehicles mainly range from 26.2 ton to 49-ton vehicles gross weight. Sales of these vehicles have been jumped between 2009 and 2010 as 55% higher. Goods commercial vehicle has been massively improved on the highest standard level 60% of the overall commercial vehicle market have been massively improved.
What is heavy haulage Oversize ODC transportation a simple task in India?
ODC, otherwise called over-dimensional cargo is added entirely outside of a deck of the vehicles for shifting the over-sized goods. Both the length and height of cargo are larger than the standard vehicles. These heavy cargos are used in both domestic and commercial sectors. ODC transport in India can help people to shift their heavy goods from one location to the next one quickly. It is because these vehicles are well-equipped with many modern devices. They are capable of transporting heavyweight goods over long distances. The transport service provider has sufficient experience in this sector, so the team makes the overall transportation process hassle-free.
What is the diversity in logistics or transportation costs in India?
The Indian transportation sector is very large and diverse. It has been carrying out a major solution to undergo road transportation. For shifting goods and products, road transportation is very must and involves good actions. It has lots of results and the majority of imports rely on on-road transportation. Also, the costs of transportation in India are affordable and depend on business size. It works from the publication that makes the average population time for transport needs. So, get it based on the diversity in logistics and transportation costs is limited to the business sectors.
What is the level of customers class in the development of Indian Industrial Market?
Customer segmentation is nothing but a practice of dividing a customer into a group. It has been carrying out with the majority of things relevant to marketing. Thus, it plays an important role in meeting overall interests and spending habits. So, it termed to evaluate the specific ways organize with marketing needs. Millions of Indian population has the biggest range of the base class. It is also considered high due to Indian market range. It involves middle class, richest, and below-average base class. It has overflowing wealth value and sometimes involves in extremely poor condition. Checking the database also reveals the big Indian base class.
What and how much contribution of the present government has been successful in promoting Indian trade business ?
Industry experts mainly state that Government requires to endure the stepping on spending more on the particular sectors. With the Current Government is concentrating on various factors such as education, infrastructure, healthcare, connectivity and more. All these are major aspects that revive the growth with declining economic growth. There are hundreds of entrepreneurs as well as start-ups in the manufacturing sectors have been improved with the economy. Government has initiated certain measures for reviving the economy with spurring growth. India responds to the need for manufacturing as well as other service sectors then 80% of the GDP gets to improve.
What are the major business problems in India?
Since the time immemorial Indians have been promoting peace. The business has massively improved to the peak level but there are also some problems that most of the business faces. Whether it is related to government, crimes by 'godmen', condition of roads, corruption, or any others, the business gets affected in certain circumstances. Corruption is the worst endemic that is widely spread in India so it is important to be handled wisely and quickly. Though our country needs several changes at present below are some of the important things that we need to consider for tackling immediately. · Corruption · Illiteracy · Education system · Basic Hygiene · Healthcare system · Poverty · Pollution · Women's safety · Infrastructure
What are the disadvantages of the transportation business ?
Here are the demerits of the transportation business as follow: Frequent Accidents Road transportation in India is risky. Necessary security measures never made against road accidents. Inadequate Road Many roads in India are inadequate and also available in bad shape. There are just 34 km long roads per every 100 sq.km area. Heavy Taxes It is another disadvantage of the road transportation business. The tax burden per vehicle in this country is Rs. 3500. Poor road maintenance Roads in India are not properly maintained. There is only 0.1% of national earning is invested in road maintenance in India. Rising diesel and petrol cost The operational amount of road transport is rising continuously. Not suitable for bulky goods It is unsuitable for heavy goods.
What are the advantages of the transportation service business ?
The road transportation involves a majority of things to help workers, students, and people to travel securely. It involves less cost and safety for everyone. Other than that, it easily delivers enough goods on time via road transport. It is more applicable for business to carry out major benefits in road transport. Goods and products delivered at the right location within the limited time duration. It involves lots of flexibility in operation and cheaper as well. For import and export business, road transportation is must and more appropriate for a short distance or long distance. It deserves the right platform to carry out major goods delivered at the right time.
How many types of transportation are used in India?
With the rapid urbanization in India, the Economic growth of the country has also improved. Transport system mainly has been improved into distinct modes such as notably road transport, railways, inland water transport, airports, and airlines, coastal shipping and many more. Roadways are the dominant means of transporting carrying about 85% of the total traffic generated in the country. India has about 191.7 million registered vehicles and Compound Annual Growth Rate from total Registered Motor Vehicles in India has been improved to 94%. With the increase in the number of vehicles on roads, it also paves a way for the development of business.
What is Logistic and what works ?
Logistics is broadly used to refer to a process of moving resources including equipment, products, materials, and inventory from one place to next one at the targeted destination. This term is used in numerous applications. There are different kinds of logistics services available but road transportation gets more fame among business professionals. It is because if business products or material cannot reach the customers, it will fail. It is the right place when road transportation plays a vital role. It also impacts many other aspects of businesses. If the products are shipping to your customers on time, it will increase the profitability of a company.
What are the meaning and use of a company or industry in reality ?
Company or industry, in reality, is an entity that especially engages the business. The company could be structured across many numbers of ways. A company could be a corporation, sole proprietorship or under the partnership. Based on the different company that you are dealing with, it could be owned by a single person or even a group of individuals. The company could be well structured under many circumstances. Liability is an important type of company that is especially assumed. Company or industry in India has a major growth with the improvements in modern technology and transportation facilities all over the country.